Nevada Supreme Court Chief Justice James Hardesty announced today that Judge Linda Marquis and Judge Egan Walker have been appointed as co-chairs of the 20-member Permanent Guardianship Commission.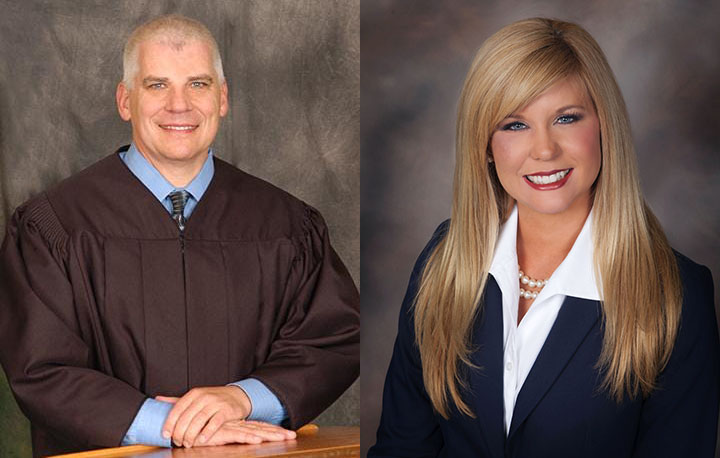 Judge Walker (left) and Judge Marquis (right) co-chair the Permanent Guardianship Commission.
In 2017, after considering the information submitted in the final report of the Commission to Study the Administration of Guardianships in Nevada, the Supreme Court of Nevada created a permanent Guardianship Commission to address issues of concern related to those persons who may be subject to the guardianship statutes, rules, and processes in Nevada. All Nevada guardianships are administered by Nevada's courts pursuant to Nevada Revised Statutes Chapter 159, which are reviewed by the Commission along with court rules, policies, and procedures.
On March 6, 2018, a Guardianship hotline was established to offer the public a central place to address guardianship issues. The State Guardianship Compliance Office reports concerns by callers to the Courts and provides callers with resource navigation services and referrals for additional support and assistance. The hotline number is 833-421-7711.
Judge Marquis served as a Justice of the Peace Pro Tem in Las Vegas Justice Court and the North Las Vegas Justice Court from 2011-2014. She was an Alternate Judge for the Las Vegas Municipal Court from 2011-2014. The Clark County Commission appointed her as a Presiding Officer for the Police Fatality Fact Finding Review Board in 2012. Judge Marquis assumed office for Department B of the Nevada 8th Judicial District Court Family Division in 2015.
Judge Walker was appointed to serve as the presiding judge in Department 2 of the Second Judicial District Court of the State of Nevada in 2011. He was elected to serve the remainder of Judge Hardy's term in 2012 and was elected for a six-year term again in 2014. He was then appointed by Nevada Governor Sandoval on December 22, 2017 to Department 7, to fill a vacancy left by the untimely death of Chief Judge Flanagan. He ran un-opposed for retention of that position in January of 2018.
The first Guardianship Commission meeting with the new co-chairs is scheduled for March 31.