Trial Court Statistics
Select Court to Compare
Select up to two courts
------------------
------------------
Criminal Filings
Civil Filings
Family Filings
Juvenile Filings
Total Non-Traffic Filings
Traffic Filings
Grand Total Filings
Criminal Dispositions
Civil Dispositions
Family Dispositions
Juvenile Dispositions
Total Non-Traffic Dispositions
Traffic Dispositions
Grand Total Dispositions
Non-Traffic Clearance Rate
Traffic Clearance Rate
Overall Clearance Rate
* The Annual Report of the Nevada Judiciary contains additional data, as well as important footnotes about this information. The Annual Report can be found here.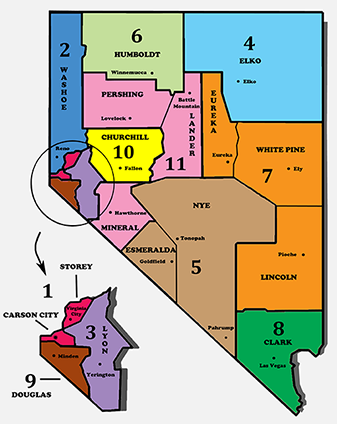 Note: The numbers indicate the Judicial District to which the county is assigned.
Select Courts to Graph
Draw As:
------------------
------------------