Justice Douglas Herndon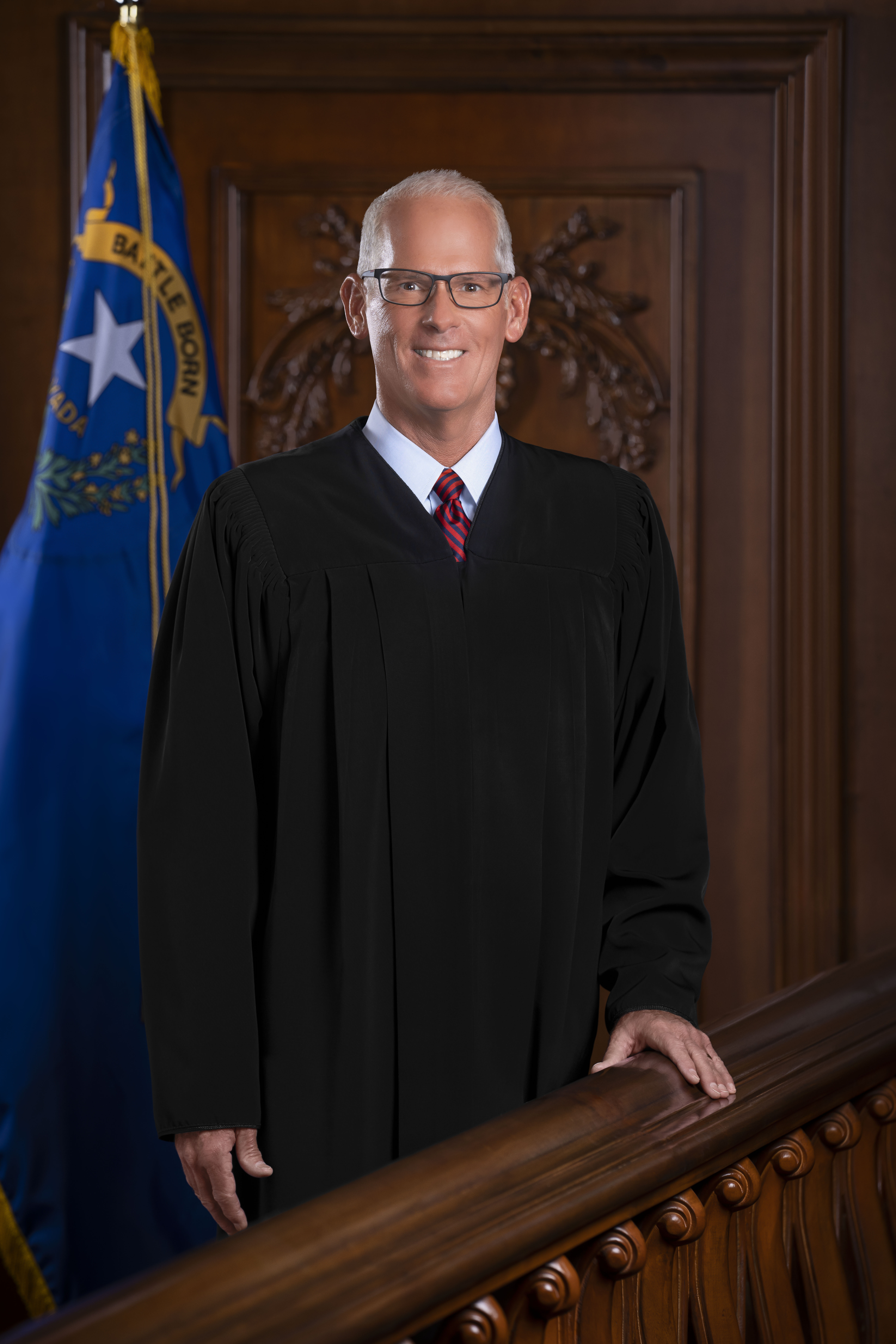 Justice Douglas W. Herndon was born and raised in Texas and received his undergraduate degree from Texas A&M University in 1986. He then received his law degree in 1990 from the Washington and Lee University School of Law in Lexington, Virginia.
Justice Herndon was elected to the Nevada Supreme Court in November 2020, and currently serves as the Chief Judge of the court's Southern Nevada Panel.
He previously spent fifteen years as the District Court Judge for Department 3 in the 8th Judicial District Court, having originally been appointed to the bench by Governor Kenny Guinn in January 2005. There he created, and served as the Chief Judge of, the Court's Homicide Case Team from 2017 through 2020. Prior to that he served as the Chief Judge of the court's Criminal Division from 2010 through 2017.
While in District Court, Justice Herndon was a top-rated judge for fifteen consecutive years and in 2019, he received the highest performance rating of any District Court Judge in the Las Vegas Review Journal's judicial evaluation surveys. In 2019, Justice Herndon was a recipient of the Light and Wisdom Diamond Award for Judicial Excellence and, in 2010, he received the Community Service Award for his work with The Rape Crisis Center. Additionally, in April 2005, Justice Herndon received the Gary Collie Award from the Community Coalition for Victim's Rights and in May 2003, he was honored as Family and Child Treatment of Southern Nevada's Man of the Year.
Throughout his career, Justice Herndon has been actively involved in numerous statewide commissions designed to improve justice in our state, including the Administration of Justice Commission, the Indigent Defense Commission, the Commission on Statewide Rules of Criminal Procedure, the Committee to Study Evidence Based Pre-Trial Release, and the Virtual Advocacy Commission.
Justice Herndon has enjoyed a twenty-six-year relationship with the Rape Crisis Center, where he provides quarterly instruction on the Court System. He also enjoys writing and presiding over mock trial and trial advocacy programs for Elementary, Middle and High School students, as well as for UNLV law school students. He has involved himself with teaching about Criminal Law and the Court System and is a frequent lecturer at Continuing Legal Education programs on issues related to civil procedure, proper trial conduct and professional ethics.
Prior to his judicial appointment in District Court, Justice Herndon enjoyed a fourteen-year career in the Clark County District Attorney's Office, the last nine years of which were spent as the Chief of the Special Victim's Unit. There, he specialized in the prosecution of cases involving child homicide and the physical and sexual abuse of women and children.
Justice Herndon and his wife, Carrie, have been together since meeting in college thirty-eight years ago. They have two daughters, Kaitlyn, and Emily Grace. In his free time, Justice Herndon enjoys hiking, biking and running full and half marathons.

Contributions, Expenses and Financial Disclosure Reports: