File a Document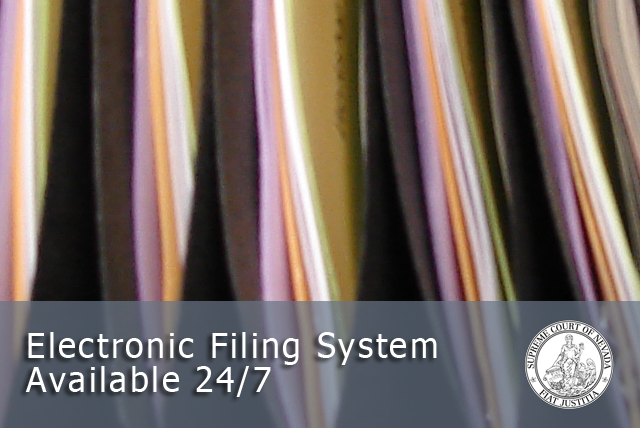 All motions, briefs, appendices and other papers must be filed with the Office of the Clerk of the Supreme Court at 201 South Carson Street, Suite 201, Carson City, Nevada, 89701-4702. The Court's hours are from 8:00 a.m. to 5:00 p.m., Monday through Friday, except for holidays. Documents received after 4 p.m. will be filed the following day.
Documents may be filed in one of several ways: (1) U.S. Postal Service; (2) personal delivery at the Supreme Court in Carson City; (3) third-party commercial carrier; (4) the Supreme Court drop box in Las Vegas, or (5) using this Court's EFlex Electronic Filing System. A document is timely filed if, on or before the last day of filing, it is: (1) mailed to the clerk by First-Class Mail, or other class of mail that is at least as expeditious, postage, prepaid; or (2) dispatched to the clerk for delivery within three calendar days by a third-party commercial carrier.
Electronic Filing
The Supreme Court's web-based electronic filing system (EFlex) is available 24/7 for the filing of criminal and civil cases. The system allows attorneys and district court clerks to file documents; pay for civil filings; view and print electronic versions of documents and docket sheets; and receive electronic notifications when other parties or participants file to your cases.
Attorneys can request an account from the EFlex login screen. If you encounter any problems with the electronic filing system, please contact the Office of the Clerk of the Supreme Court at (775) 684-1600. An Efiling training video and training materials for Attorneys, Settlement Judges, and District Court Clerks can be found here.
Las Vegas Case Filing
In Las Vegas, documents may be submitted for filing by placing them in the Supreme Court drop box located in the Las Vegas Courthouse, 408 East Clark Ave., Las Vegas 89101. Simply stamp your documents with the time stamp on top of the drop box and place them in an envelope (you should provide your own envelope) before dropping in the box. The documents will be forwarded to the Supreme Court Clerk's Office in Carson City for processing.
Emergency Filing
Motions to stay a death penalty may be faxed to the Office of the Clerk of the Supreme Court.
Faxing of other documents is allowed "only in cases of emergency and only if an oral request has first been tendered to the clerk and approved, upon a showing of good cause, by any justice or the clerk." If permission is granted to file a motion by fax, the movant generally should also serve the opposing party by fax. The original document, with proof of service, must be filed within three days to the Office of the Clerk of the Supreme Court.