Justice Patricia Lee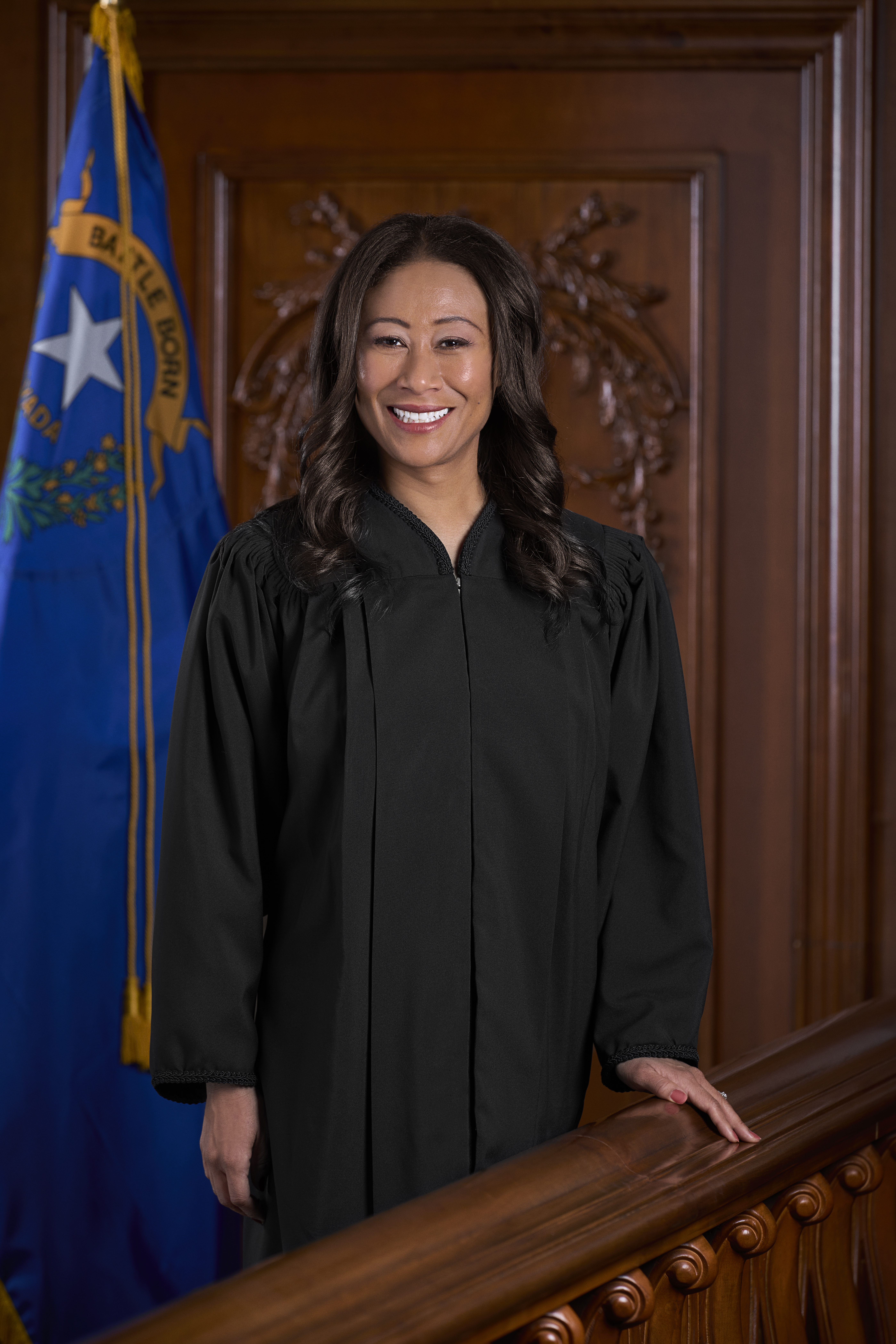 Justice Patricia Lee is an Associate Justice with the Nevada Supreme Court. She was appointed in November of 2022 by Governor Steven Sisolak, who appointed her to fill the vacancy left by retiring Supreme Court Justice Abbi Silver. Justice Lee is the first African American woman and the first Asian American to serve as a Nevada Supreme Court Justice. Prior to her appointment, Justice Lee was a partner with the Nevada law firm Hutchison & Steffen, where she practiced primarily in the field of complex commercial litigation. She also practiced in the fields of family law, intellectual property, collections, mechanic's liens/foreclosures, and commercial lease transactions and ran the firm's small business program for entrepreneurs and small businesses. She was also the director for the firm's pro bono program and oversaw the firm's summer internship program.
Justice Lee hails from the small town of Lompoc, California, where she graduated near the top of her class. She attended the University of Southern California and obtained a dual degree in psychology and communications in 1997. During her time at USC, Justice Lee served the student body as a Student Senator and as President of the Black Students' Union. Justice Lee received several accolades for her academic excellence and dedication to campus and community activism. Among the awards she received were the Thurgood Marshall Leadership Award and Order of Troy for academic achievement.
After graduating from USC, Justice Lee worked for one year as an employee at the California Science Center in Los Angeles, California, and assisted in the establishment of the Rosa Parks Community Computer and Learning Center for inner city youth. She then attended the prestigious George Washington University Law School where she obtained her juris doctorate in 2002.
Justice Lee's dedication to community activism continued at GWU, where she was elected as the Community Service Director for the Student Bar Association as well as the Student Director over the Small Business Clinic, in which role she assisted small businesses in economically distressed communities with their legal needs. She also gained valuable legal experience as an intern for the United States Department of Justice, for the United States Postal Service, and for a private practitioner focused primarily on employment and labor law, and criminal law.
Prior to taking her seat as a Nevada Supreme Court Justice, Justice Lee acted as a volunteer attorney for the Children's Attorney Project, where she represented abused and neglected children in Clark County, Nevada. In addition, she previously served as Treasurer of the Las Vegas Chapter of the National Bar Association and as the President of the Las Vegas Chapter of the National Bar Association Foundation. In 2010, Justice Lee was appointed by Governor Gibbons to serve as Chair of the Nevada Crime Commission. In 2011, Justice Lee was appointed to serve as a member of the Self Help Center's Steering Committee by Eighth District Court Judge Elizabeth Gonzalez (Ret.). In 2012, Justice Lee began serving on the Pro Bono Advisory Council to support the efforts of Legal Aid Center's Pro Bono Project and was subsequently nominated to the Board of Directors for the Legal Aid Center of Southern Nevada, where she continued to serve until being appointed to her current position. Justice Lee also served as the President of the Board of Directors for the Girl Scouts of Southern Nevada and as a Board member for the Women's Chamber of Commerce.
Las Vegas business publication In Business Las Vegas honored Justice Lee with its "Women to Watch 2010" award. Due to her tenacious efforts to grant under-served communities with fair access to justice, Justice Lee was awarded the Pro Bono Attorney of the Year by the Legal Aid Center of Southern Nevada in 2012 and holds the honor of being the first attorney in Nevada to win the prestigious National Pro Bono Publico Award awarded by the American Bar Association. Justice Lee has also received recognitions and awards from the Asian American Group (Outstanding Community Achievement), the Lili Claire Foundation ("Live your Passion" Award), and the Women's Chamber of Commerce (Young Professionals Award and Humanitarian of the Year). Justice Lee has also been recognized for multiple years by the regional publications Nevada Business Magazine (Legal Elite) and Mountain West Super Lawyers.
When Justice Lee is away from her Chambers, she enjoys spending time with her husband, Ronnie (a small business owner), and their two children, Brianna and Devin, and does not shy away from the term "hard core soccer mom!" Justice Lee also enjoys traveling, reading, and cooking and is an avid sports enthusiast.
Contributions, Expenses and Financial Disclosure Reports: