Justice Linda Marie Bell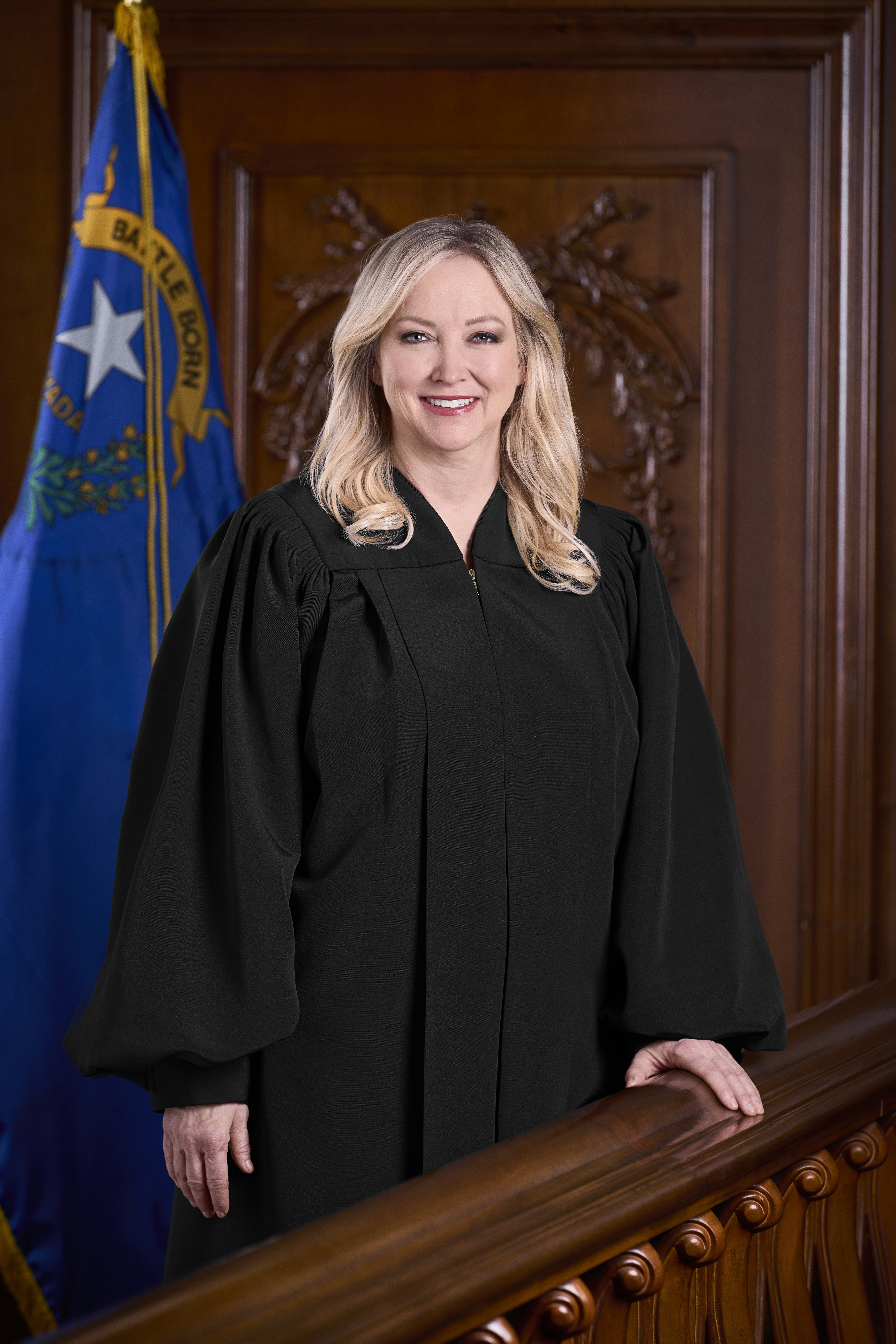 The Honorable Linda Marie Bell serves as a Justice of the Nevada Supreme Court in Seat A. Justice Bell was elected to the position in November of 2022 and took office January 2, 2023.
Prior to serving on the Nevada Supreme Court, Justice Bell served on the Eighth Judicial District Court in the civil/criminal division. She served as a trial court judge for fourteen years.
During her tenure with the trial court court, Justice Bell was a driving force in the proliferation of specialty courts. She started the District Court Veteran's Treatment Court and also worked to implement the District Court Gambling Diversion Treatment Court, which was the only one of its kind in the country.
In 2019, her peers on the bench elected Justice Bell to serve as the Chief Judge of the largest court in the State of Nevada. As Chief Judge, Justice Bell was responsible for overseeing the entire operation of a large, high-volume court. During Justice Bell's tenure as Chief Judge, the Eighth Judicial District Court took swift action to manage the unprecedented challenges of a pandemic. Justice Bell also led development and implementation of a COVID-19 trial plan to allow jury trials to move forward safely when many other courts remained closed.
A third generation Nevadan, Justice Bell grew up primarily in Reno, where she attended Anderson Elementary School, Pine Middle School, and Wooster High School. She completed high school in Las Vegas, graduating with honors from Bonanza High School. Justice Bell also graduated with honors from University of Nevada, Reno. In 1993, Justice Bell received her law degree magna cum laude from the University of San Diego School of Law, where she served as a Lead Articles Editor for the University of San Diego Law Review.
Justice Bell was admitted to the Nevada State Bar in October of 1993. After graduation, she worked as a law clerk to the Honorable Sally Loehrer in the Eighth Judicial District Court. Following her clerkship, Justice Bell worked in private practice in the areas of medical malpractice and family law. After three years in private practice, Justice Bell served as a public defender for five years in Clark County, handling felony criminal trial cases. She then spent seven years in the non-capital post-conviction unit of the Law Offices of the Federal Public Defender, handling complex post-conviction cases. Justice Bell argued a number of times before the Nevada Supreme Court and Ninth Circuit Court of Appeals.
Justice Bell is deeply committed to giving back to the community. She has been a mentor and role model to countless judges, lawyers, and students. She was honored as the Trial by Peers youth program Judge of the Year in 2011. Justice Bell graduated from the Las Vegas Chamber of Commerce Leadership Las Vegas program in 2008 and remains actively involved in Leadership Las Vegas. She volunteered as a Court Appointed Special Advocate (CASA) to speak on behalf of abused and neglected children. Among other professional and community activity, Justice Bell has previously served as a board member of Family and Child Treatment, the Southern Nevada Women Attorneys, and the Nevada Attorneys for Criminal Justice.
Justice Bell served as Chair of the National Conference of State Trial Judges and served for two years as Chair of the ABA Judicial Division Ethics and Professional Responsibility Committee. Justice Bell is a past president of Nevada District Judges Association. She served as president of the Howard D. McKibben Chapter of the American Inns of Court from May 2012 to May 2014. Justice Bell taught criminal law and criminal procedure at the University of Nevada, Las Vegas from 2011 until 2022. Justice Bell was a 2019 recipient of the Clark County Law Foundation Liberty Bell Award, the 2021 recipient of the Southern Nevada Women Attorney's annual Miriam Shearing Award, and the 2022 recipient of the NCJFCJ Impact of the Year Award.
Contributions, Expenses and Financial Disclosure Reports: