Appellate Courts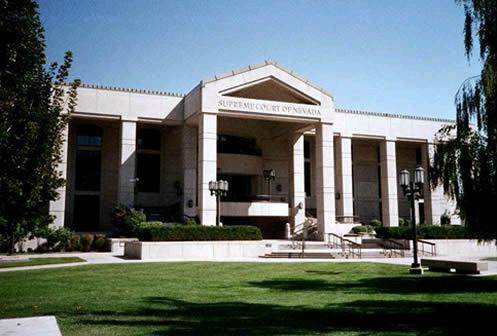 The Nevada Supreme Court is the highest court in the Nevada judicial system. With the district, justice, and municipal trial courts organized in 11 judicial districts (covering 17 counties), the Nevada Judicial system constitutes the third branch of government.
The main constitutional function of the Supreme Court is to review appeals from the decisions of the district courts. The Supreme Court does not pursue fact-finding by conducting trials, but rather determines whether legal errors were committed in the rendering of the lower court's decision. The court can affirm, modify, or set aside the decision on appeal. The court must consider all cases filed. Beginning in January of 1999, for the first time in history and in a move to dispose of cases more rapidly, the court began to decide many of its cases by meeting in three-justice panels, with one panel in Carson City and one panel in Las Vegas. Panel membership generally rotates every twelve months. The full court continues to sit in Carson City and Las Vegas for those cases which are designated to be heard en banc.
Only three justices sat on the Nevada Supreme Court bench from 1864 to 1967. In 1967, the legislature used its constitutional authority to increase the size of the court to five. In 1997, the number was increased to seven justices. Each justice is elected to a six-year term, with the exception of the two new justices elected in 1998, who held two-year terms until they were reelected in the 2000 election; subsequent terms are for six years. The Governor fills mid-term vacancies by appointment. The most senior justice in commission becomes chief justice and serves for two years. If two justices are eligible, the chief justice is chosen by lot.[History of the Nevada Supreme Court]
In 2014, the Nevada Court of Appeals was approved by citizens by allowing an amendment to Article 6 of the Nevada Constitution. The three-judge court began hearing cases in January 2015. This unique court hears roughly one-third of all cases submitted to the Nevada Supreme Court in a deflective model, where the Supreme Court assigns cases to a three-judge Court of Appeals. This is similar to systems used in other states, including Iowa, Idaho, and Mississippi.
Prior to this change, the Supreme Court heard all appeals, including everything from murder convictions to appeals of driver's license revocations.