Chief Judge Michael P. Gibbons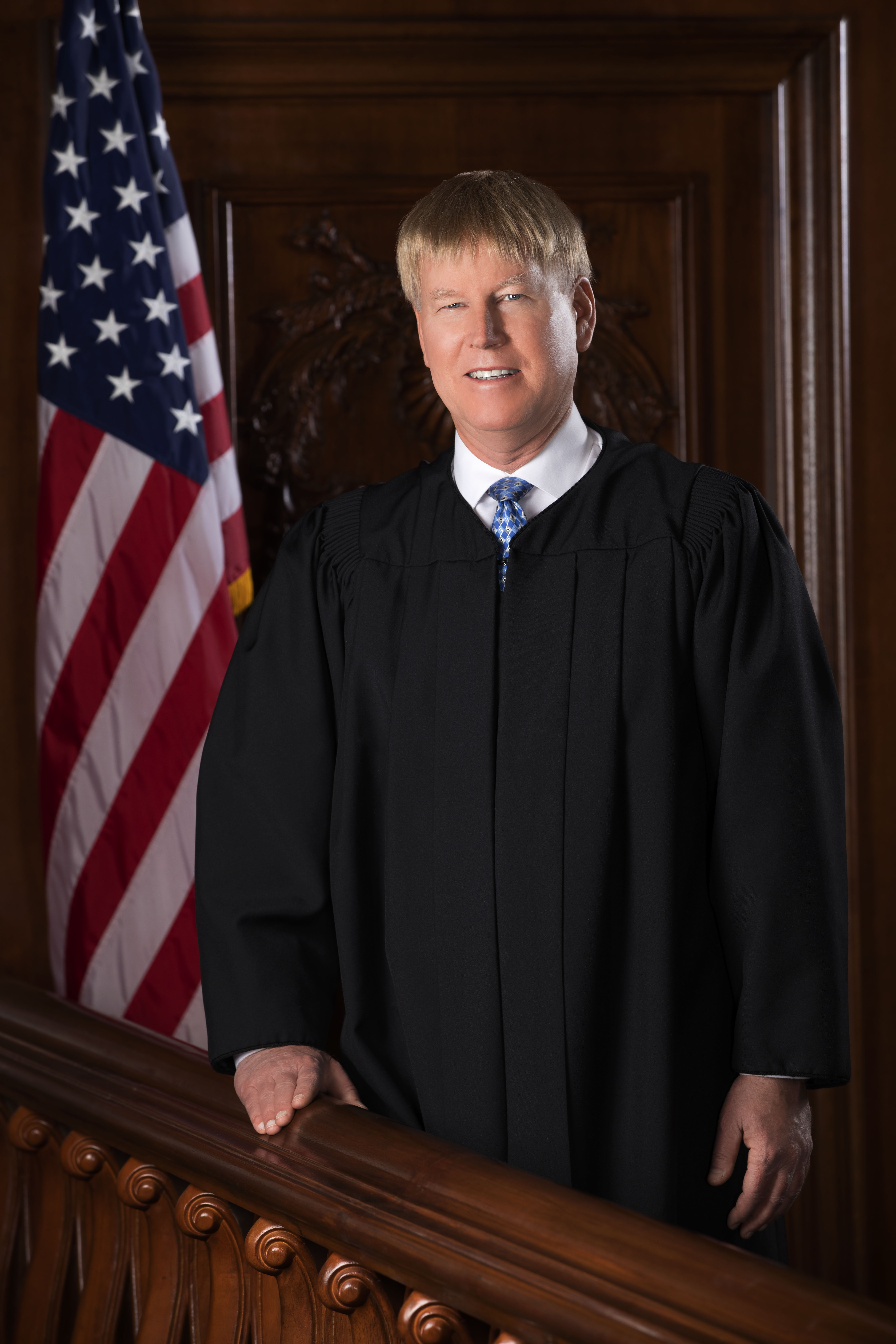 Chief Judge Michael P. Gibbons was one of the three judges Governor Brian Sandoval selected to form the inaugural Nevada Court of Appeals in December 2014. Judge Gibbons was elected to serve a second term on the Court of Appeals in November 2016. He was appointed as the first Chief Judge of the court and reappointed twice. Before his appointment to the Court of Appeals, he served as a District Judge in the Ninth Judicial District Court in Minden for twenty years. He was first elected to the district court bench in 1994 and was consecutively reelected four times. During his 20-year tenure on the district court, Judge Gibbons presided as a visiting judge in nine different counties, including ten appointments by the Nevada Supreme Court to district court in Clark County, and two temporary appointments by the governor to the supreme court. In his more than 26-year judicial career, he has always received a retention rating of 80% or higher by members of the Nevada bar.
Judge Gibbons has an extensive record of leadership in organizations dedicated to improving the bench and bar. Judge Gibbons served as President of the Nevada District Judges' Association in 2004 and 2005; Sierra Region district court representative for the State Judicial Council for twelve years and Court of Appeals representative since 2019; an inaugural member of the Nevada Committee on Judicial Ethics and Election Practices with eight years of service; a member of the Nevada Court Improvement Project for Children for fourteen years; and was elected to the governing board of the National Council of Juvenile and Family Court Judges for six years, where he received the President's Award in 2008. He is one of the few District Judges to have ever received the Outstanding Achievement Award in judicial education from the Nevada Supreme Court (more than 1,000 hours of education). Judge Gibbons has also mentored more than 20 judicial law clerks as they began their legal careers.
Judge Gibbons received his bachelor's degree from the University of California at Los Angeles and his law degree from the University of Idaho College of Law. Judge Gibbons was the only member of his law school class to be selected both as an editor for the Law Review and for the Northwest States Regional Moot Court competition.
Judge Gibbons began his Nevada legal career in 1980 as a law clerk for District Judge Howard D. McKibben. Judge Gibbons was hired as a Douglas County Deputy District Attorney in 1981 and promoted to Chief Criminal Deputy in 1984. He prosecuted many high profile criminal cases such as the extortion bombing of Harvey's Hotel Casino in Lake Tahoe. He was elected the second President of the Douglas County Bar Association in 1987. Throughout his career, Judge Gibbons has advocated for victims' rights and endeavored to help the vulnerable through legislation and court programs. He was a founding board member of the Nevada State CASA Association (Court Appointed Special Advocates for Children) and the co-founder of the Douglas County SAFE Program (Special Advocates for Elders). He served on the Nevada Guardianship Commission from 2015-16, which successfully proposed legislation and court reforms to protect the elderly and the vulnerable.
In his personal life, Judge Gibbons enjoys spending time with his wife, three daughters, and three grandsons (he is the brother of retired Nevada Supreme Court Chief Justice Mark Gibbons). Judge Gibbons enjoys supporting youth athletics and engaging in philanthropic efforts. Judge Gibbons is a certified youth soccer coach and actively coached for twelve years. He was selected in 2008 by People to People to coach a United States youth soccer team in the Youth Friendship Games in Holland. He has been a certified soccer referee for nineteen years and continues to officiate for high school and youth leagues. He was named Carson Valley Citizen of the Year in part for his support of youth athletics. Judge Gibbons was also a member of the Tahoe-Douglas Rotary Club for 22 years and received the inaugural Quiet Rotarian award for unheralded excellence as a Rotarian.
Contributions, Expenses and Financial Disclosure Reports: